If there were no limits, how could yoga change the world?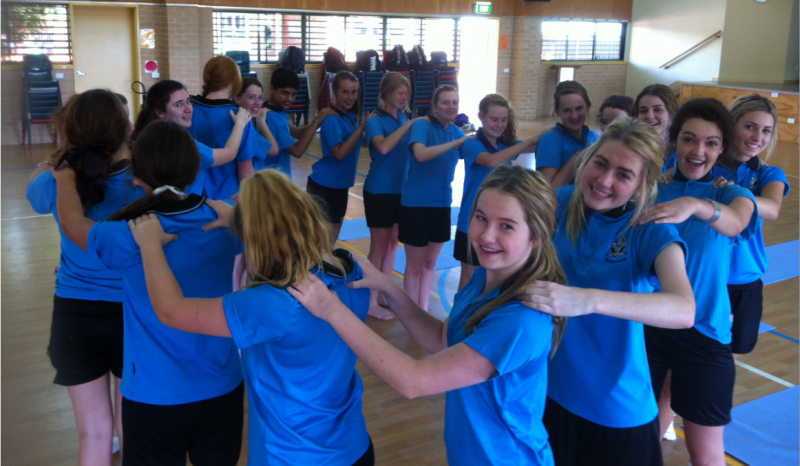 Making Yoga accessible to all: teaching yoga in High Schools.
I just came across this writing that I had entered for a Power Living Yoga Australia (P.L.A.Y) competition to win a Yoga Teacher Training /Mentoring Retreat. I didn't win the competition but I still had a victory because the exercise helped me to clarify my purpose and what I do here at Spirit Yoga... so here it is.
Yoga teaches that all beings are inter-connected, so every step an individual makes towards change impacts the world in some way. Therefore we need to lead that change from within; we need to be present in our everyday lives. As Eckhart Tolle says, "Presence is the only place where true change can occur." So, when we as yoga teachers take that step and regularly practice yoga (asana, pranayama, meditation) and learn to become present and hold that presence, we contribute to a calmer, more present world where change can occur. Imagine if we were all taught this one skill alone, what tremendous change could occur!
We all have unique gifts, talents and knowledge that we are meant to share with the world, it is our purpose and greatest act; that of giving and receiving. When the gift of yoga is available to be shared with-out restriction I imagine the result will be one of united calm, wisdom and love. We would have a healthier planet as people chose to look after themselves, others and the environment in an honourable way.
The practice of yoga globally would impact every area of our lives as our planet became healthier and people complained less of stress, anxiety and common ailments such as lower back pain. In short, make yoga accessible to everyone! Start where you are right now, quoting Eckhart Tolle again, "Nothing will ever happen in the future; it will happen in the Now." Barriers can be removed in your own hood right now!
I have already started providing change in my hood. It starts with me becoming centred and present through a daily meditation practice. I then aim to make yoga accessible and affordable to most people (and ages) by offering a mobile service, teaching in various locations including: gyms, schools, outdoors, in homes, offices and online. This allows people who may not have tried yoga before or who can't afford yoga studio prices, to practice where they are. I come to them (sometimes with a boot full of yoga mats, blocks, a trolley and a smile) or they join me online by practicing along to one of my yoga clips or by downloading an e-Book I offer on Amazon (once a month offered for free through a monthly e-News).
So we can be spreading the wonders of yoga through many different mediums, it is in fact limitless already. Although I teach from a small coastal town in Australia at present, I have been able to spread the passion and love I have of yoga to not just my micro community but to afar, by meeting people where they are, in their local communities, offices, schools or homes using many different mediums. Meeting them on their level, on their turf with an open heart, and a desire to affect their lives no matter who they are or where they live. When we remove our own barriers to spreading the gift of yoga, change is just one breath away!